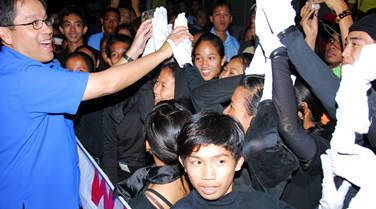 Senator Mar Roxas
yesterday vowed to continue to push for transparency in the implementation of government projects, and reiterated his hope that the quality affordable medicines act will be in place before Christmas.
"Something is very wrong in our institutions if graft and corruption is taken as the norm in transactions using people's money," the senator said.

The senator was in Bacolod late yesterday to speak before the first national Pag-asa Youth Association of the Philippines encampment at the Panaad Sports Stadium.

He rallied the youth not to give up on the country and to get involved in the issues affecting the nation.

Roxas also stressed the need for the youth to take their studies seriously in order for them to pursue the best opportunities for the future.

In an interview, the senator hit the National Economic Development Authority for invoking "executive privilege" in refusing to submit documents on the controversial $329-million National Broadband Network project to the Senate. He told the DAILY STAR if the NEDA insists on invoking "executive privilege" the Senate will bring the matter to court.

This calls into question what ought to be public domain, Roxas said.